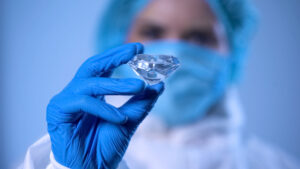 When you consult a diamond expert for buying your engagement ring diamond, the one quality the professional is going to emphasize the most is the cut quality of the diamond. Whether it is a natural or a lab-grown diamond, you can say that cut quality is the most important quality parameter you should look for. Cut quality is so important because it enables the diamond to exhibit good brilliance and sparkle.
The ideal diamond cut is the perfect cut specifications for a diamond to show its maximum brilliance. But all diamonds are not cut according to the ideal diamond cut. When a diamond cut deviates from the ideal diamond cut, it can be classified into shallow cuts and deep diamond cuts. In this article, we are discussing in detail shallow-cut and deep-cut diamonds.
About Deep Diamond Cut
The length measurement obtained by measuring from the culet to the table surface is called the total depth of a diamond. In diamond terms, we use total depth percentage and this value is obtained by multiplying 100 by the Total Depth/ Average diameter of the girdle.
Total depth percentage plays a very crucial role in determining the cut grade of a diamond. A diamond can reflect more light when its overall depth and girdle diameter are in ideal proportions resulting in an intense sparkle.
A diamond is said to be deep if its overall depth is excessively large in comparison to its typical girdle diameter. Deep Diamond cuts are unable to reflect light efficiently and hence can seem dull. Diamond experts say that the deeper you go the lesser will be the sparkle. In addition, when placed in a setting, deep-cut diamonds appear smaller than ideal-cut diamonds of the same carat weight.
About Shallow Diamond Cut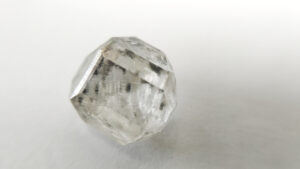 A diamond is said to be a shallow cut if its average girdle diameter is very high compared to the total depth of the diamond. The major problem associated with the shallow cut is its poor reflective properties. As the depth is too low, light leaks out from the diamond's bottom and is not reflected back, resulting in poor brilliance. Another major problem with shallow-cut diamonds is the fish eye effect. This effect occurs when the diamond girdle is reflected under the table facet.
A shallow cut diamond looks bigger as the table diameter is larger but compromises on brilliance. In the end, it all comes down to the preference of the buyer. If you prefer a bigger-looking diamond instead of a sparkling one, you can go for shallow-cut diamonds.