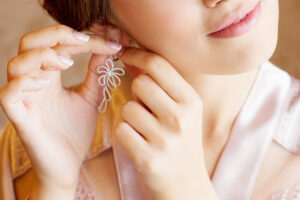 The Classic Updo: Timeless Elegance
Updos have been a go-to hairstyle for formal events and special occasions for ages. These chic and polished hairstyles effortlessly draw attention to your ears, making them an ideal choice for showcasing your diamond earrings. Whether it's a sleek chignon, a romantic bun, or an intricate braided updo, these hairstyles create a stunning backdrop for your dazzling ear adornments.
The Effortless Side Sweep: Glamorous Sophistication
For a more glamorous and sophisticated look, consider the side sweep hairstyle. Sweep your hair to one side, allowing your diamond earrings to be the star of the show. This style not only accentuates your diamond earrings but also adds an air of Hollywood elegance to your overall appearance.
The Graceful Half-Up, Half-Down: Balancing Act
Half-up, half-down hairstyles strike the perfect balance between elegance and casual charm. With this versatile hairstyle, you can achieve a polished look while still letting your hair flow naturally. By securing the upper section of your hair away from your face, your diamond earrings are given the spotlight they deserve, drawing attention to their brilliance.
The Dazzling Side Tuck: Showcasing Uniqueness
For a look that is both striking and unique, try the side tuck hairstyle. This style involves sweeping your hair to one side and tucking it behind your ear, exposing your diamond earring beautifully. Whether you have short hair or long locks, the side tuck adds an element of sophistication and highlights the exquisite details of your earrings.
The Glamorous Old Hollywood Waves: Vintage Glam
Old Hollywood waves are synonymous with timeless glamor and red-carpet elegance. These luxurious, flowing waves frame your face and draw attention to your ears, making them a perfect match for showcasing your diamond earrings. This classic hairstyle exudes vintage charm while exquisitely complementing your ear jewelry.
The Chic High Ponytail: Modern Edge
If you're looking for a more modern and edgy way to flaunt your diamond earrings, the high ponytail is an excellent choice. The sleek and elevated ponytail pulls your hair away from your face, providing an unobstructed view of your stunning ear adornments. This hairstyle is perfect for adding a contemporary touch to your overall look.
The Regal Side Braid: Royal Elegance
Channel your inner beauty with a side braid that effortlessly showcases your diamond earrings. Whether it's a fishtail braid, a classic three-strand braid, or a romantic Dutch braid, this hairstyle keeps your hair neatly in place while allowing your earrings to shine in all their glory.