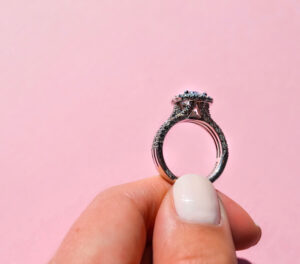 Prince Harry's engagement ring is an example of how he went against royal conventions. There are also other big examples of the aforementioned, but Harry's ring tends to go overlooked. Engagement rings to use for royal men are usually made of gold pieces from the personal collection of the Queen. However, Harry chose a much modern metal band made of platinum in place of gold, giving his ring a sleek and fresh appearance. That willingness to look beyond conventional options should inspire you to pick the best ring for you.
While you may not go wrong with a classic ring, we live in an extremely personalized world in which people appreciate differences and uniqueness more. For a practical and ultra-modern person, a black titanium band would work for a statement piece. Choosing a vintage ring with sapphire stones usually means breaking the norm.
Engagement jewelry says much about the person who proposes marriage and the other individual. For the former, a piece of engagement jewelry may be a token of the strength of their affiliation with their life partner. Therefore, small details are more important for their ring. For the one who receives the ring, it is an utterly personal piece. The above factors make it stressful and fun to pick the ideal ring for a man. Here, we will discuss some details to simplify the choice.
Yellow Gold: A Classic And Romantic Option
A yellow gold ring is ideal for a person who has longed for the big day and thought about all possible details of the ceremony. It is a timeless option synonymous with the state of being married.
White Gold: An Ideal Option For An Elegant Bride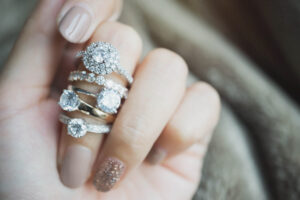 Choosing white gold means that it exudes elegance, making it appropriate for a man who mirrors such traits. A white gold ring has lightness and subtlety. Whether you include a group of diamonds in the ring to make it shinier or go for a center stone, a white gold band is mostly devoid of gaudiness. However, white gold can cause allergic reactions in some people. Keep it in mind when you seek white gold diamond rings too.
Ultra-Modern Rings
A usual titanium engagement ring typically suits a practical and simple man the most. However, as for a person who cannot give up some amount of bling, whether it be a metaverse enthusiast or a techie, an ultra-modern ring will do the trick.