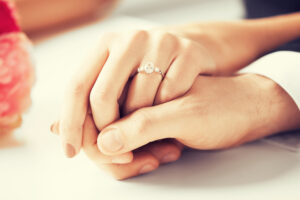 It is difficult to overtake the position of the traditional round diamond cut for engagement jewelry. It is the key point worth remembering from the recent Jewelry and Engagement Study of The Knot. It surveyed over 5,000 recently engaged people to discover the trends in engagements and marriage proposals.
About jewelry, engagement rings keep being the traditional option for 93% of the survey respondents, with diamonds as the favored centerpiece stone for most of them. The round brilliant diamond cut has kept its place as the best-known cut in the survey. The oval cut has got a steady increase over the last few years, as it jumped from 2% to 19% from 2015 to 2021, as per The Knot's report.
Up to 10% of the respondents chose a center stone other than a diamond. Moissanite was found to be the best-known option among those respondents, as it represented 28% of non-diamond gemstone choices. Further, about 25% of the people surveyed chose lab grown diamonds, representing an 11% rise over the last two years.
It appears that white gold rings for engagements have become less popular; their popularity came down from 61% to 45% over the last four years. Yellow gold, meanwhile, has regained a bit of favor, with an 11% increase in the last four years.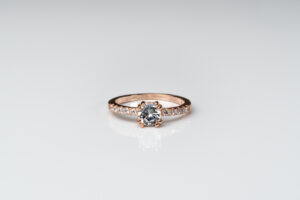 Further, the survey found jewelry sites and social media to be the leading source of knowledge on rings and for inspiration. Marriage proposers prefer making in-store purchases to online purchases, with 67% of rings bought at physical stores. Moreover, half of those in-store customers chose to shop at local jewelry shops. Overall, proposers went to three jewelry retailers as well as looked at about 10 in-store rings before arriving at a purchase decision. For the people surveyed, the total spending on a ring for an engagement stayed steady at $6,000 or so.
Further, over 90% of couples revealed their engagements on social networking platforms. The survey found Facebook and Instagram to be the best-known platforms for those couples to make their engagement announcements. Over 75% of the people surveyed have already set 2022 wedding dates.
Shelley Brown, The Knot's beauty and fashion editor stated that an increasing keenness on personalized rings for engagements accompanies this renewed buzz around proposals. Brown also underlined that yellow gold ring settings, alternative centerpieces such as sapphires and moissanite, and oval diamonds are becoming more popular.