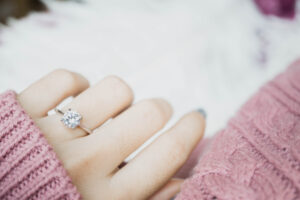 Side stone rings are also called diamond accent rings, as they come with small accent stones that are set on the band. This additional lining of gemstones on the band can enhance the overall glamor of your engagement ring. The side stone engagement rings are one of the most sought-after choices among brides because of their timeless look.
Side stone rings are the embellished version of solitaire rings that come with a single center stone and a simple, plain band. Adding accent stones to the band of your ring can give a luxurious look along with maximizing the overall sparkle.
If you have settled for a side stone ring for your engagement, then you have got great taste in jewelry. If you are planning to purchase side stone engagement rings, this article can be helpful for you, as we list some of the important things you want to know for getting the best option.
Choosing The Center Stone
Most diamond shapes can be used for side stone ring settings. However, some diamond shapes are more popular than others. Some of the popular center stones for side stone rings include:
Round: The traditional and timeless option among all diamond shapes is round brilliant diamonds. They can be suitable for everyone. Hence, if you are not sure of your fiancée's style, then it is an ideal option to choose.
Oval: Another stunning option you can consider for your side stone rings is oval diamonds. The elongated look of this diamond shape can offer a bigger appearance for your ring. It is also less costly than round diamonds.
Cushion: If you want to create a vintage look, then choosing a cushion-cut diamond for your side stone ring can be a perfect idea. With their square shape and rounded edges, cushion-cut diamonds create a unique option for your engagement ring.
Some other popular options that you can choose for your center stone include emerald-cut, oval-cut, and princess-cut diamonds.
Choosing The Side Stones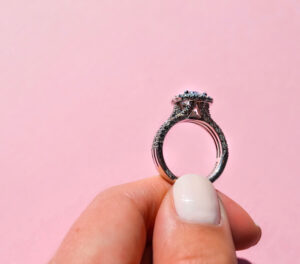 Accent stones usually come with simple cuts including round, trillion, or baguette. You can choose an option based on the shape of your center stone.
Additionally, when getting side stones, it is better to choose color and clarity grades that are almost similar to the grades of the center stone. Otherwise, they can be a significant mismatch in their appearance.
You can also choose natural or lab grown diamonds for your center and side stones. Getting lab grown diamonds can be more affordable than natural diamonds. Hence, if you are looking for affordable engagement rings, then it is better to go for these artificial stones.