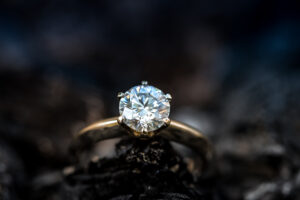 Most of us decide on a budget before we begin looking for an engagement ring. When it comes to engagement ring prices, most people are unsure of how much is too much. Confusion is increased by a number of misconceptions and myths surrounding the acquisition of an engagement ring. We'll look at a few things you might want to keep in mind as you seek the ideal engagement ring for you and your spouse.
Purchasing an engagement ring is often the most memorable and emotionally significant investment a couple will make. Choosing a ring that truly represents your unique relationship and personal aesthetic can certainly be daunting.
Considering Average Cost
Recent surveys show that couples spend $3700 on average for their engagement ring. Although no two couples would have the same spending limit for an engagement ring, only a very small fraction of customers spend significantly less or significantly more than the average price. When choosing an engagement ring, the secret to making a wise decision is to avoid going into debt. No piece of jewelry is worth destroying a significant portion of your savings or causing unneeded stress.
A lot will depend on you and your partner's personal preferences. When you are prepared to spend a significant amount of money on the ring but your partner prefers a simple style, you could occasionally find yourself in awkward situations. At that point, cutting back on spending is your only choice. If a couple is ready to give up some of the style and stone quality they want, they will always find wonderful options on the market for larger stones.
Considering Alternatives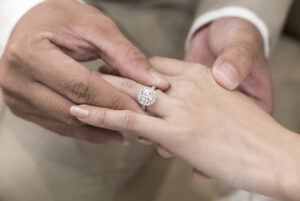 The majority of women prefer a pretty sizable genuine diamond for the engagement ring's center stone. A genuine diamond with a one-carat brilliant cut may cost you several thousand dollars. If genuine diamonds are out of your price range, lab-created diamonds of the same carat and quality are available for 40% to 50% less money. Choose stones with minute imperfections that are undetectable to the unaided eye if you want to further lower the price. When compared to diamonds without any discernible inclusions, these diamonds would be much less expensive, but they would also look and sparkle just like a diamond without any inclusions.
When trying to fit the cost of your engagement ring purchase into your wedding budget, a little extra time and effort spent conducting some solid research can go a long way. You can purchase a ring that appeals to both of you when armed with pertinent knowledge!