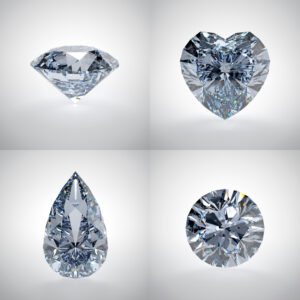 Engagement rings featuring one large center stone and beautiful side stones have always been trendy. Baguette diamonds are one among the most favoured side stones used in diamond engagement rings due to their classy cut and unmatched elegance when set in a beautiful design. If you are in search of great choices for side stones for your precious engagement ring, read on to see whether Baguette diamonds would be an ideal choice for you.
What Are Baguette Diamonds?
Baguette diamonds are long and rectangular in shape. They are step-cut and typically feature 14 facets. Baguette diamonds are quite popular as accent stones or side stones in precious diamond jewellery pieces. The shape of Baguette diamonds however makes them more prone to chipping and damage. This can be rectified by choosing a setting that is ideal to protect the stone from damage as much as possible.
The Versatile Uses Of Baguette Diamonds
The average carat size and shape of Baguette diamonds make them an ideal choice for rings featuring three stone settings. The affordable cost of Baguette diamonds makes them a favorite choice of those who prefer to have a pocket friendly purchase of jewellery. Budget shoppers for engagement rings often go with Baguette diamonds as their center stones due to the unique vintage look the stone shape can attribute to any piece of jewellery.
Factors To Consider In Baguette Diamond Purchase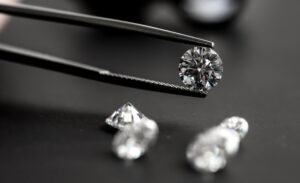 While purchasing Baguette diamonds, make sure to go with a good clarity and precision cut. The sharpness of the cut matters a lot for Baguette diamonds due to the lesser number of facets in the stone. Fewer facets also necessitate high clarity to ensure that the stone is of great quality. Any imperfections in cut or clarity will be clearly visible in Baguette diamonds when compared to other cuts featuring more facets. Imperfections that are usually easier to cover in usual cuts may not be that easy when it comes to Baguette cuts. So, while choosing a Baguette cut diamond, make sure to go with great cut and clarity to ensure maximum brilliance.
A rare combination of modernity and functionality, Baguette diamonds are an ideal choice to accentuate the appearance of your beautiful center diamonds or to be used as a stand-alone stone in pendants and rings. The unmatched aesthetics of designs featuring Baguette diamonds make them a popular choice among those who prefer unique settings and designs in their diamond jewellery.